With all the paid reviews getting too hot inside the blogosphere, ReviewBack kick in with a fresh new concept. You review another blog but instead of getting paid for doing that, you get your blog reviewed in return.
How it works?

Register yourself with ReviewBack, filled up required information and your blog will appear in the marketplace. Search through the marketplace for blogs of your niche and start contacting them for a mutual review. You can even sort the blogs according to name, age, pagerank, alexa ratings, tags or categories.
ReviewBack Marketplace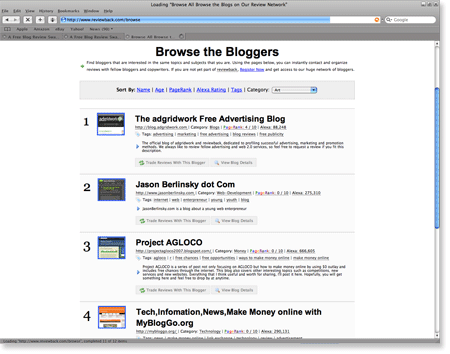 Verdict
ReviewBack plays role as a "middleman", collecting bloggers interested in looking for review exchange under one roof. As far as I know, they are probably the first that provide such service. It's a good place to scout around if you are looking forward to increase your traffic, or probably increase your PageRanks if you are lucky enough to find high PR bloggers willing enough to trade a review with you.