Many bloggers while enjoy making money blogging, may not like to be directly involved with advertisers or buyers who are interested to buy their content. Unpleasant situations can arise from payment and delivery problems which is why there are so many paid blogging agencies who act as a neutral third party to facilitate such transactions. Blogger is assured of payment, buyers get the goods delivered as promised and agencies get a cut of the transaction. All parties involved are happy.
Sell Your Blog Content To The Media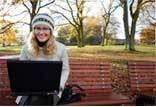 With the explosion of blogs and the ensuing meteoric rise of citizen journalism from blogs and online images and videos, Scoopt who originally sold newsworthy images taken by its members to the world's press, have now included blog content - known as ScooptWords. Scoopt was recently bought by stock photography giant Getty.
Citizen Journalism On The Rise
If you can blog high quality original content or have had your articles published in the press, then you should definitely join ScooptWords. You retain the copyright to your work but give ScooptWords the right to sell and distribute your work. At the moment, they are using Nightcap Syndication to give valuable exposure to bloggers' work but at the same time, they are also developing their own aggregation and search tools.
Marketing And Selling Your Articles
When you register, you will be given a ScooptWords button to put at the content you wish to sell. Editors who are interested to buy your article will click on the button which sends them to ScooptWords where all the price negotiations and transaction details are handled.
Pricing And Payment
ScooptWords gets a 25% cut of the fee. Payment is made through PayPal usually within 30 days of an agreed transaction. If an editor commissions you to write an article, and you are required to let ScooptWords handle the deal on your behalf or risk losing your membership if you bypass them. In this case, ScooptWords takes a 15% cut.
Conclusion
ScooptWords is not for the casual blogger who frequents PayPerPost for paid opportunities. It is for the semi-pro blogger who can write original articles which are of high quality. If you have newsworthy images, you can also submit them to ScooptWords.